Technology now a days seems to moving at a rapid pace and the growth in this field seems to be filled with large opportunities. It is said that technologies and programming languages now are just improving and getting better day by day.
Companies are spending large amount of money and resources on the research and development of technologies and the computer scientist are working on technologies to get more of it.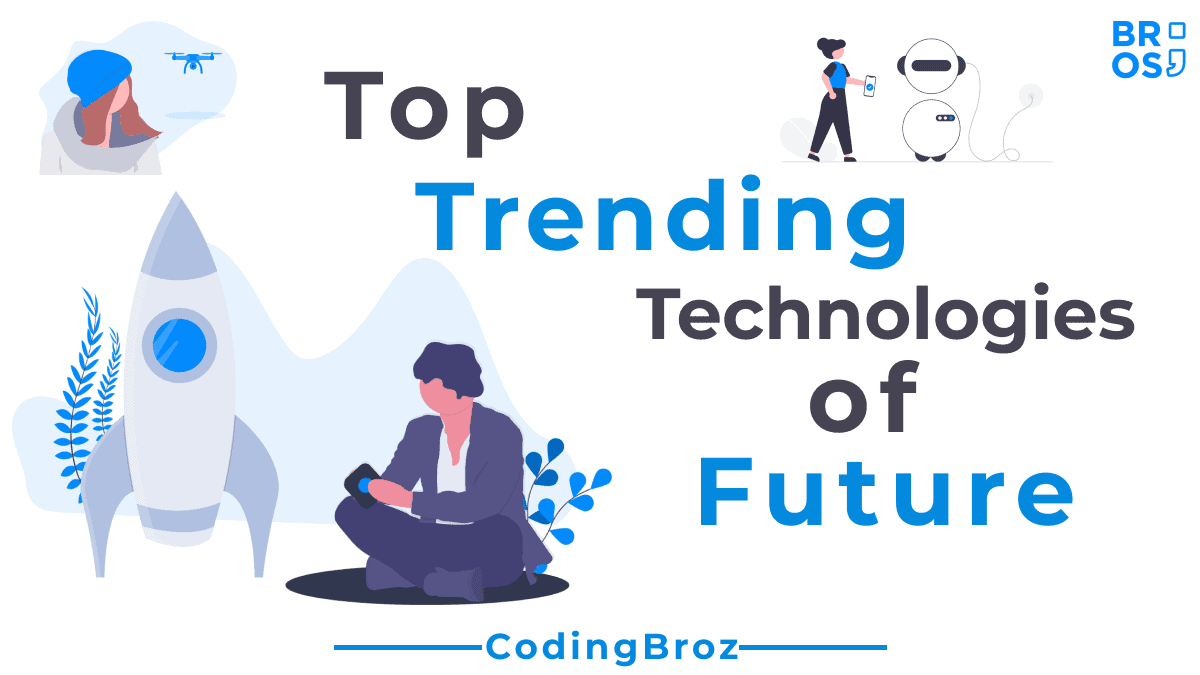 Here are top trending and hottest technologies that are sure to dominate the IT industry in the upcoming years, so if you are really interested in IT field, you must need to master your skills in these technologies.
Top Upcoming Trending Technologies In 2021
ARTIFICIAL INTELLIGENCE OR AI
Artificial intelligence or AI is the technology which is working on giving computers the ability to take decisions on there own just like humans. Yeah, I know it sounds creepy but humans are more creepy who just came up this idea. Getting back to AI, Artificial Intelligence helps to improve computers to take decisions and the aim is to mimic human intelligence for performing complex task such as pattern recognition, speech recognition, weather forecast, and medical diagnoses. So, learning AI will help you secure job roles such as
MACHINE LEARNING ENGINEER
DATA SCIENTIST
COMPUTER VISION ENGINEER
DATA ANALYST
BUSINESS INTELLIGENCE DEVELOPER
DATA SCIENCE
Data Science is a field working on making the sense out of complex data. Everyday tons of data is produced by the companies across the globe. These includes BUSINESS DATA, SALES DATA, CONSUMER PROFILE INFORMATION, SERVER DATA, FINANCIAL FIGURES.
Data Science as a field seems very promising for the future scopes.
Some of the job roles in Data Science are :
DATA SCIENTIST
DATA ARCHITECT
BUSINESS INTELLIGENCE MANAGER
DATA ENGINEER
BUSINESS ANALYST
DATA ANALYST
INTERNET OF THINGS OR IOT
Internet of things is a technology which is working on building a network of devices through which all devices are connected and communicates to each other. You can take the basic example of GOOGLE HOME or Alexa which can turn fans and lights switch on and off, here smart bulbs and fans are connect to these speech recognition devices. Here devices shares there data, there environment and also about how they are being used. The IoT device have a smart computer chip which facilitates these data exchange. It is predicted the more than 41 Billion IoT devices powered by IoT will be used by 2025.
The chip installed in the machines helps the business producing the machine about the data of how they and being performing in the market and also assists in there maintenance. By learning this technology it will help you getting job roles such as
IoT SOFTWARE ENGINEERS
SYSTEM DESIGN ENGINEER
IoT PRODUCT MANAGER
IoT RESEARCH DEVELOPER
IoT SOLUTION ARCHITECT
BLOCKCHAIN
Blockchain is one the most trending word revolving around. Blockchain is the foundational technology that powers the electronic currencies such as cryptocurrencies. In simple words , Blockchain is an electronic information that can be shared among different users which is very secured. This helps in creating a record of transaction that cannot be altered, making the technology verifiable and secured.
There is a rise in Blockchain technology and here are some opportunities you can rise with :
BLOCKCHAIN DEVELOPERS
BLOCKCHAIN QUALITY ENGINEER
BLOCKCHAIN LEGAL CONSULTANT
BLOCKCHAIN LEGAL ATTORNEY
BLOCKCHAIN ENGINEER
ROBOTIC PROCESS AUTOMATION OR RPA
Robotic process automation, or RPA is a technology used to automate daily tasks. Similar to Artificial Intelligence, here software are developed and train to automated repetitive tasks, such as Replying to business emails, processing transactions, handling business data. Companies such as Accenture, Deloitte, and capgemini use RPA tools to automate their daily operations. So the demand is huge for skilled professional in the RPA industry. The different RPA job roles are:
RPA DEVELOPER
RPA BUSINESS ANALYST
RPA CONSULTANT
RPA SOLUTION ARCHITECT
RPA PROJECT MANAGER
VIRTUAL REALITY
Virtual Reality is becoming common now days and I am sure every one must have used or at least heard the term VR. Virtual reality is a technology by which anyone can immerse themselves in an environment that seems astonishingly realistic. It is the use of the computer technology for creating simulating environment. It is very popularly used in computer games where you can live and experience the game environment like real life. The VR industry is expected to reach close to $40 billion by 2021. Here are some VR jobs :
CONTENT PRODUCER
AR AND VR CONTENT WRITERS
PRODUCT MANAGEMENT
SOFTWARE ENGINEER
UI/UX DESIGN
QUALITY ASSURANCE
So, These are some of the top trending and hottest technology of 2021 and upcoming future. If anyone is interested then he/she must work on the require skills and contribute in the industry.
Broz Who Code.
CodingBroz